Podcast: Play in new window | Download
Mention advertisers, ABN, Concealment Solutions, Crusader Weaponry and NJ2AS. Firearm Safety Institute
Introduction
"An armed society is a polite society.. and this is the Polite Society Podcast where we support and report on civilian self-defense."
Paul: Welcome to the polite society podcast powered by Firearms Policy Coalition.  This episode is recorded live on Sunday the 23rd of November 2014, I'm Paul Lathrop
John: I'm John Richardson, and we'll talk about the Obama administration's efforts to silence reporter Sharyl Attkisson.
Rob: I'm Rob Morse and in one of our DGU's a couple fought back against 3 home invaders..
Gary D: I'm Gary Daugherty we will talk to Brandon Combs, so climb aboard
John: strap in
Rob: and hang on!
Paul: Episode 287 of the Polite Society Podcast starts right now.
Show intro music.
Seg 1- Personal news from each participant
Welcome back to the polite society podcast powered by Firearms Policy Coalition.
Paul – .Susan and I did the Rescue run. It was supposed to be all complete on Monday, it stretched into Tuesday because of weather. Went out the rest of the week and had a good time hanging out with my sweetheart yesterday.  Did some dry fire practice yesterday morning and today have been running around a ton.   We are getting closer to Shot Show and have been in the planning stage. Susan and I decided that it would be smarter to rent a car and drive down rather than flying this year. we may be doing the same for GRPC next fall.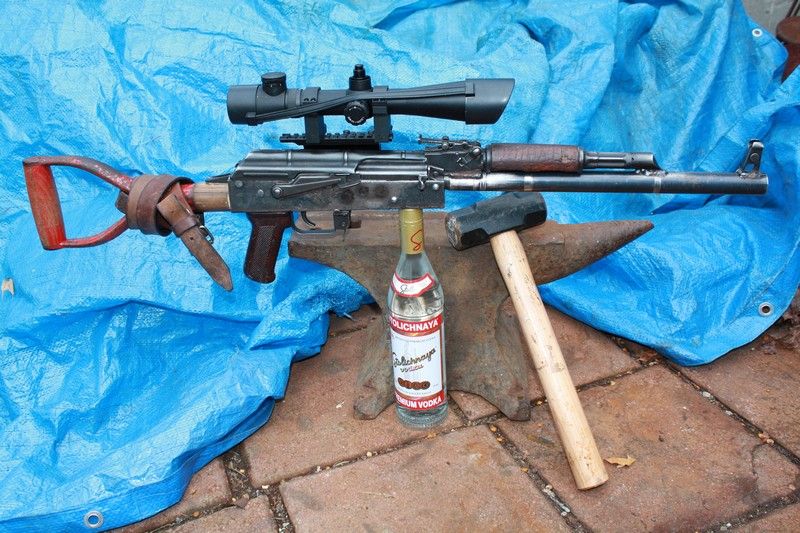 John – We did a story earlier about the ten worst cities for knife owners. I celebrated that by buying a knife that probably would be illegal in all ten of them! It is a CRKT Heiho folder that I got off of Woot. I also ordered a carbon fiber AR-15 lower from Tegra Arms. It want to do an ultralight build and this will save some weight. I'll report on it after I get it built.
Rob- Gun Owners of California County meeting on Tuesday.  On the "One America" cable news channel Wednesday evening discussing gun rights.  That couldn't have happened without John and Rachel for writing up Wednesday's show.  Had food poisoning Thursday.  Shot IDPA yesterday.  I need time to dry practice.
Break
advertisement ABN
Seg 2- News
Welcome back to the polite society podcast powered by Firearms Policy Coalition.
-We already knew the Obama administration keeps an enemies list.  We already knew they used government agencies to target their political enemies.  And anyone who does not support the Obama administration's policies is considered an enemy.  Today we have more proof.  CBS reporter Sharyl Attkisson wrote about the US Department of Justice running guns to mexican drug gangs.  We also knew Attkisson wrote stories that never saw the light of day because her editors wouldn't put them on the air.  We suspected the news managers at CBS were spiking the stories to please washington politicians.  That suspicion was confirmed in a department of justice e-mail.
The e-mail was buried in the 64 thousand e-mails released on the evening before the election.  Tracy Schmaler, who headed Eric Holder's Office of Public Affairs, said Sharyl Attkisson had already hurt the reputation of Attorney General Eric Holder.  Schmaler reached out to Attkisson's boss at CBS to have her stories stopped.  Even though it was buried in that stack of other documents, this e-mail was probably released by mistake.  The e-mail would have been redacted, but Attkisson's name was misspelled in the e-mail.
-Rob was on TV this week with an anti-rights advocate who claimed guns cause crime.  In truth, crime and criminal violence go up and down for a variety of factors.  Many of the factors that should cause crime are on the increase.  For example, we've seen high unemployment, unprecedented numbers of home foreclosures, and massive drug-related violence in Mexico.  We've also seen more Americans choose to own a gun than ever before.  Despite those factors, violent crime in the US, including crime involving firearms, has been going down or holding steady.  If you hear otherwise, someone is lying. http://firearmscoalition.org/index.php?option=com_content&view=article&id=752:guns-up-crime-down&catid=19:the-knox-update&Itemid=144
LInk to Graphics Matter
-This is a followup to a story we reported on in the last episode. Thanks to a local gun dealer the Lynden Pioneer Museum in Bellingham, Washington won't have to remove the World War 2 vintage firearms from their  exhibit entitled "Over the Beach: The WWII Pacific Theater". They thought that with the passage of I-594 it would have been too costly to conduct background checks to comply with the law. Pistol Annie's Jewelry and Pawn of nearby Bonney Lake, Washington has stepped in to run the background checks for free. They normally charge $40 per background check.
Break
-Attorney Alan Gura represented four gun owners in the Palmer v. District of Columbia case started in 2009.  This week, Gura argued that the District has not lived up to the court ordered obligations.  Yes, the district passed new laws that allow for concealed carry, but at the same time, the District made it impossible for the original plaintiffs to obtain gun-carry permits. Quote, "There is no way in the world my clients can obtain a license to carry a gun." close quote.
Judge Scullin asked the lawyers for the District to show him statistics demonstrating that restricting gun-carry to people who have demonstrated a special need has enhanced public safety.  Assistant Attorney General Andrew Saindon said he did not have any such statistics.
Judge Scullin then asked the city and the plaintiffs for additional filings on whether the city should be considered in contempt.
–US District Ct Judge Anthony Ishii denied the request by California Attorney General Kamala Harris for an extended stay in the case Sylvester v. Harris. This case involves the 10-day waiting period for firearm purchases in California and its application to certain gun owners who have either Certificates of Eligibility or California carry permits. Judge Ishii had previously ruled this violates the Second Amendment. Harris had tried to argue that other projects had higher priority than fixing the Bureau of Firearms database. Judge Ishii didn't take kindly to this and said, "The Court does not know how Defendant or the BOF prioritizes projects, but dealing with an unconstitutional law should be towards the top of the list."
-We reported on the recent change in Pennsylvania law that allows gun owners to sue, and more importantly to collect monetary damages from, cities who violate the Pennsylvania firearms preemption law.  The Norristown Pennsylvania city council just repealed a four-year-old law that required residents to report lost or stolen guns within 48 hours. Norristown police Chief Mark Talbot said the revocation would not have an impact on public safety.  He said a felon making a straw purchase was "unlikely to refrain from doing it because of a local law."
Several Pennsylvania towns have done the same thing and repealed their gun restrictions.
-Jay Leno was supposed to be the featured entertainment at the NSSF's State of the Industry dinner. That was before the anti-gun forces including Everytown Moms, Coalition to Stop Gun Violence, and the Newtown Action Alliance got involved. Under pressure from these groups he unilaterally cancelled his appearance. Leno's people tried to claim that he was under the false impression it was a "sportsman's show" and not "a pro-gun lobby show". Moreover, they said he hadn't received any money. That was a lie as the NSSF had already wired Leno over $80,000 as a deposit.
–Gun Quotes
John- This quote was sent in by Ken who lives in the free state of Arizona.  News commentator Edward R. Murrow said: "A nation of sheep will beget a government of wolves."
Hang on everybody, we'll be right back after this
advertisement Concealment Solutions
Segment 3 Interview
With Brandon Combs of the Firearms Policy Coalition
Segment 4 DGUs
Welcome back to the polite society podcast powered by Firearms Policy Coalition.
-A Lakewood, Washington couple in their 60s was attacked by three armed home invaders.   The robbers forced their way in as the husband answered the door. The couple was beaten, and tied up.  The thugs ransacked the house looking for valuables. The couple was able to free themselves when the robbers left them unguarded for a moment.  They retreated to their bedroom, locked the door, and retrieved a firearm. A pair of the home invaders tried to force their way into the bedroom and one of the robbers was shot and killed. Taijon Voorhees, 19, was found dead after being dumped by the others. Police arrested ninteen year old Duprea Wilson, and a 17 year old.  Both face 12 felony charges including 2nd Deg murder.
–A robber in Calumet City, Illinois thought a fake gun would do the trick when he threatened the owner of Cal City Bakery on Tuesday. The owner, however, was armed with a real handgun and shot the robber seven times.  Calumet City Police Chief Edward Gilmore said the bakery owner had a valid FOID card and no charges would be brought. Quote "..it seems the owner did everything the right way. He was in fear of his life and acted in a prudent manner to save his life and the life of his employee, based on the facts he knew at the time."  close quote.
–Two thugs tried to rob an Eastside Indianapolis tire store on Thursday. They approached the store owner and his girlfriend and demanded money. That is when the girlfriend pulled her pistol and engaged the robbers. She received a wound to her neck while one of the robbers also was shot. Both were taken to the hospital.
–When Ronnie Green, 74, of Rosedale, CA  heard his female neighbor scream Friday evening, he armed himself and went to help. He came across Greg Miller, 51, who had been stalking the woman. Miller threatened Mr. Green with a knife and then kicked the elderly man in the chest. Mr. Green then shot the stalker in the foot. Kern County Sheriff's deputies found Miller after he crashed his car. Miller was jailed after being treated for his gunshot wound. He was charged with stalking, elder abuse, battery, and making criminal threats. Green faces no charges for his self-defense shooting.
-A man came into the South Main Internet Café in Salisbury, North Carolina armed with a gun. He ordered everyone to get on the ground.  He then pointed the handgun in the teller's face and demanded money from the till. The female teller dropped the money tray onto the ground and had to bend down to get the cash and stack it on the counter.  The robber put his gun on the counter while attempting to stuff the cash in his clothing.  That is when the female teller grabbed the robber's gun, pointed it at him and fired.  She missed.  The man ran off and has not been found.  More than a half dozen people were inside the café when the attempted armed robbery happened.  No one was hurt.
We have the links to each of our news and defensive gun use articles at Polite Society Podcast.com if you want to share them with a friend.
Advertisement NJ2AS
Tips and tricks
Advertisement
Segment 5 Show close
Listener e-mail discussion
An interesting email from Ken in Arizona.
Paul, again, I apologize for hogging your email, but I keep having thoughts. Here's my latest one:
Are we, as 2nd Amendment supporters, insane. Are they, as gun-grabbers, insane. You know how they say insanity is doing the same thing over and over and expecting a different result. We keep fighting to restore and preserve the 2nd Amendment, but the forces against us continue, and seem to be gaining strength in a perpetual tug-of-war.
Is it time we realize this fight will continue forever? Is it time we realize there are just some factions in this Nation who will never accept our civil rights, will never accept the 2nd Amendment, and will fight as long as we fight? A never-ending battle. I do have a solution.
Is it time we accept the reality that we have Free States and Slave States? A house divided against itself cannot stand. Perhaps we should not repeat the First Civil War, and rather than enter into a Second Civil War, we should just accept the reality and break into 2 separate Countries? The philosophies of the Liberal/Progressives are so vastly different from ours, I doubt that there can ever be, or will ever be, a reconciliation.
We in the Free States already have the Constitution that we like. It's the Slave States that don't like the Constitution and are trying to destroy it. Therefore, we shouldn't secede. We should kick them out. But, however the break occurs, we are already of 2 separate minds, can't get along, constantly struggle, and are driving ourselves crazy with a costly fight that never ends.
I know there have been proposals before, and I raise them yet again. Am I completely wrong to suggest it? Or, has the time come?
Ken Silva
Phoenix, AZ
PS If we do break apart, any bets as to which Nation is successful and which fails?
John, do you have anything from your No Lawyers – Only Guns and Money blog you want to mention?
-John – I did a post on Jay Leno's wimping out of the SHOT Show. I noted it was more than just an aging comedian cancelling out. It was another coordinated attack on the gun culture to make it an anathema. We to continue growing the grassroots and take people shooting.
Paul: That wraps up another episode of the Polite Society Podcast.  I'd like to thank Brandon Combs for joining us today.  co-hosts, will you be with us next time?  I'm looking forward to it.  Until the next time…
Rob: stay safe,
Gary: be aware,
John: and we'll see you down the road.
Mention advertisers, ABN, Concealment Solutions, Crusader Weaponry and NJ2AS. Firearm Safety Institute
(DO NOT READ)The Polite Society download app is out on Amazon for Android and the I-phone app is in I-tunes and it is called Podcast Box.  They are located by our old name, Politics and guns.  Hot links are in our show notes.
(DO NOT READ)Look at the shooters club by Bob Mayne and Ben Branam.  For $75.00 a year, $6.25 a month, you get 24/7 access to some fantastic training and audio podcasts that you can't get anywhere else.  Subscribing from the link in our show notes helps Bob and Ben as well as helps us here at the Polite Society Podcast.
(DO NOT READ)Join your local civil rights group like the New Jersey Second Amendment Society, Arizona Citizens Defense League, Gun Owners of California, Commonwealth Second Amendment,  Connecticut Citizens Defense League, Florida Carry, Georgia Carry, Georgia Gun Owners, Grass Roots North Carolina, Illinois Carry, Maryland Shall Issue,  Michigan Gun Owners , Michigan Open Carry, and  Michigan Coalition for Responsible Gun Owners.
There are Minnesota Gun Owners Civil Rights Alliance,  Nebraska Firearms Owners Association,   Citizens for a Safer New Jersey, New York State Rifle & Pistol Association,  Palmetto Concealed Carry, Open Carry Texas, Texas Firearms Freedom, Texas State Rifle Association. Tennessee Firearms Association, Virginia Citizens Defense League, Virginia Open Carry,  West Virginia Citizens Defense League, wisconsingunowners.org, and Wyoming Gun Owners.
For our Canadian listeners, and their supporters, join the Canadian Shooting Sports Association and the Canadian National Firearms Association.  If YOUR state or local organization isn't read each episode, then send us an email and we'll add them!